Term 3 Week 8 2023
Principal's Message
Welcome to Week 8
A big thank you to all our Fathers, Grandfathers, and friends of St Joseph's who came to celebrate Father's Day last Friday for breakfast. What a fabulous celebration it was and highlights what a beautiful school community we have.
This week I am in Yamba for a Principal's conference. This is an opportunity for all the Primary and Secondary Principals to meet with CSO leaders to discuss, learn, and plan future directions for Catholic Education in our diocese. We are in a very exciting time of change in education as our Diocese moves to being a Company. This week we have engaged in sessions around Governance, System Data analysis, and child safety standards, of which more information will be shared with parents on how we can all ensure our children are safe in schools and at home.
Please be aware of changes to our pupil-free days for Term 4. We apologise for any inconvenience this may have caused, however, the department hasn't released the documentation required for us to successfully plan for 2024. The new dates are Thursday, October 26, and Friday, October 27. We will also finish the school year on Thursday, December 14, 2023.
Next Term we will also start an extra day of canteen on Mondays. This will be run through Subway and parents will be able to download an App and order directly from Subway and the orders will be delivered directly to us in class groups. More information on how to do this will be circulated in the next 2 weeks.
Our canteen manager Cecelia will be retiring at the end of this school year. I would like to take this opportunity to thank Cecilia for her dedication and the endless hours she has put in to provide our students with this service. We will have a farewell for Cecilia later in the year.
Have a wonderful fortnight
Regards
Tracey
Assistant Principal Learning & Teaching
Dear parents,
REPORT REVIEW
The CSO is in the process of reviewing and modifying the student's reports for semester 2 so we would like you to comment on the report that you received at the end of Semester One. Please be aware that the Office has the final say on what needs to go into the report as there may be compliance points that need to remain on the report. However, we would like to hear from you about the report. Please click here to complete this Google form to give your opinion on the report structure.
Please take the time to add your comments.
CATHOLIC SCHOOLS PARENT ASSEMBLY
The parents on the School Forum have organised a parent workshop on Building Confidence in Kids. This is a great opportunity for you to learn new skills to help your child build resilience, battle anxiety and face the ups and down issues of life. This workshop is going to be on next week, Tuesday 12th September, in Hanley Hall (across the road from our school, opposite the church). Please make the effort to come. These sessions can help you in your parenting.
KINDER ORIENTATION
This week we spent a lot of time with our new 2024 kindergarten children. They seem very eager to begin school and can't wait to join our school community. The school Executive team has met with all the incoming parents and we have shared our expectations and information about our school. We warmly welcome all these families to St Joseph's.
WELCOME TO ST JOSEPH'S
Cheers
Chris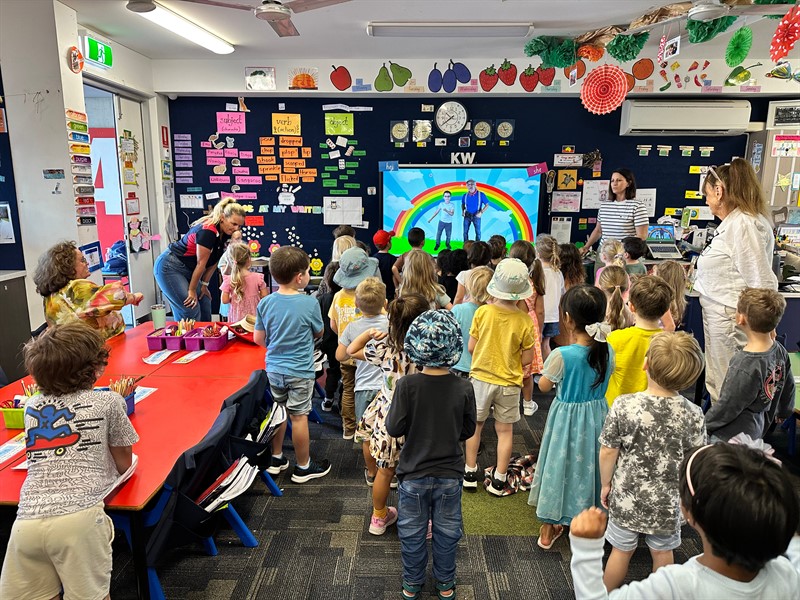 Assistant Principal Mission
Hello St Joseph's Community,
Welcome to the end of Week 8.
We are noticing, and I am sure you are too, that a lot of our children are getting tired and a little bit sensitive as we draw to the the end of another big term. At our staff prayer this week, we spent some time revising our practice of Christian Meditation. It is something we practice with students each day and a wonderful opportunity to connect with God whilst also stilling ourselves. We rarely take the time to just sit and be - something that is vitally important for our mental and physical well-being.
Whenever we have children that are starting to get a bit 'on edge', it is always best to go back to the basics of sleep, nutrition and exercise. I found a wonderful reminder graphic from a reseach facility in Canada to share with you on this.
In line with our Christian Meditation practices, I recommend to you a website and app called Smiling Mind. If you find that your child is experiencing any anxiety or struggling to fall asleep, there are some wonderful guided meditations to help slow the body and relax ready for sleep. This is a free app and a wonderful resource to help our children get the sleep they need to be the best they can at school and home. https://www.smilingmind.com.au/
On a different note, I look forward to seeing many of you at our upcoming Stage 2 led Mass and 'Building Confidence in Kids' workshop. Flyers for both are below.
Finally, thank you to all of our families that were able to join us for our Father's Day breakfast and Liturgy on Friday, and thank you to all of the staff for their work both behind the scenes and behind the bbq or table.
God bless,
Ryan O'Connor
Father's Day Celebrations
Last week our school community came together to celebrate our Fathers and Grandfathers. It was wonderful to see so many families on the playground enjoying each other's company and what better way to start the day than with a sausage sandwich!
Band Day Out
On Friday, students from St. Joseph's College attended Band Day Out! A day of music and collaboration hosted by Mount Saint Patrick Primary School with over seven different local schools attending.
There were over fifty students playing over 12 different instruments all working together to learn and perform three pieces of music in a single day!
There were two sight-reading pieces, which means students have never seen the music before and have to play it without any rehearsal and the main piece, John Williams' 'Jurassic Park' theme.
It was an amazing day filled with powerful learning and the students' performance after just three hours of learning was incredible!
We are so proud of our St. Joseph's musicians and we look forward to seeing even more young musicians performing next year!