Term 3 Week 4 2023
Principal's Message
Dear Parents and Carers
This has been a big week for our representative students. I would like to thank the students who participated in the Rugby League and Netball Gala days, the parents who went along to coach and cheer, and to the staff who umpired and supervised. We had an enormous amount of students participate which was wonderful to see. Most of the children made us proud and showed the community what it means to be a responsible and respectful student. A big congratulations to our public speaking finalists. What a wonderful achievement for all our students who participated and gained a place. The high quality of speakers produced here at St Josephs is outstanding and a big thank you to the teachers and parents and a special thank you to Mrs Christine Mulherin for the hours spent preparing the students. I am certainly a very proud Principal.
On that note, I can't brag enough about the quality of the Teaching and learning our teachers provide our students, one affirmation of this is our NAPLAN results where our students outperformed all other schools in the diocese across Years 3 and 5 in their overall performance across numeracy, reading, writing, grammar/punctuation, and spelling) and topped the Diocese in Spelling. Although NAPLAN is a snapshot of a student's performance on one day, it is definitely encouraging to see so many of our students thriving and reaching their potential.
I would also like to acknowledge the feedback parents were asked to provide to u7s through the Tell Them From Me survey (TTFM). 74 parents completed the survey.
Some of the areas that you said we needed to work on were
Being more informed about school activities
Parent activities being scheduled at times when parents can attend
Being informed about opportunities that concern your child's future
being informed about your child's social and emotional development
So we have
Push out notifications through Compass, multiple times as reminders
Assigned a designated social media person to update our Facebook page and digital screen to inform parents and the community of upcoming events.
Tried to vary the times of in-school activities to accommodate parents' busy schedules. We don't always get this right but will keep trying to include as many parents as we can as we love having parents attend our events. We are also working closely with our Parent Forum to create community events where parents and carers can be more involved with the school.
Discussed the idea of running parent information sessions throughout the year to address any educational or well-being strategies parents would like further information on. We will ask for parent feedback on the types of things they would like addressed (eg. How do I help my child read? What does the new curriculum cover? What is the current way of teaching Maths? How can I help my child build resilience?

These are all small steps towards collaborating with you, our parents to ensure your voice is heard and you feel a welcome member of our community. We will continue to improve our communication with you as we are committed to meeting your needs to better support our students.
All feedback is welcome
God Bless
Tracey
Assistant Principal Learning & Teaching's Message
NAPLAN
Over the last couple of weeks, we have analysed this year's NAPLAN results with the staff. Our results have highlighted the great work our teachers are doing with your children and how their learning has improved. The results show that St Joseph's is the top school in the Lismore Diocese for achievement and growth. This has been another achievement for our school community. Congratulations to Years 3 and 5 on doing their best. The diagnostic data pinpoints our strengths (which were shown in Spelling, Numeracy, Reading and Writing and where we need to concentrate our efforts in the future (Grammar and Punctuation).
Public Speaking
Today eight students represented our school in the Combined Tweed Catholic Schools Public Speaking competition. This competition presents the best two speakers of each stage from 8 schools. The competition was fierce and the speeches were outstanding. Each of our representatives presented their speeches with confidence and gusto. What a great effort!
These were:
Early Stage One: Charlotte Dowell and Bowie Willoughby
Stage One: Charli Hynes and Rosie Meigh
Stage Two: Amira Kelly and Zara Bolster
Stage Three: Ava Bolster and Xavier Bolster
I am so proud to announce that we won 4 out of 8 placings. Amira Kelly achieved second place in Stage 2 while Charlotte Dowell, Zara Bolster and Xavier Bolster achieved 1ST PLACE in their sections. This is an amazing feat and I congratulate all of these children for their brilliant performance. Well done.
Public Speaking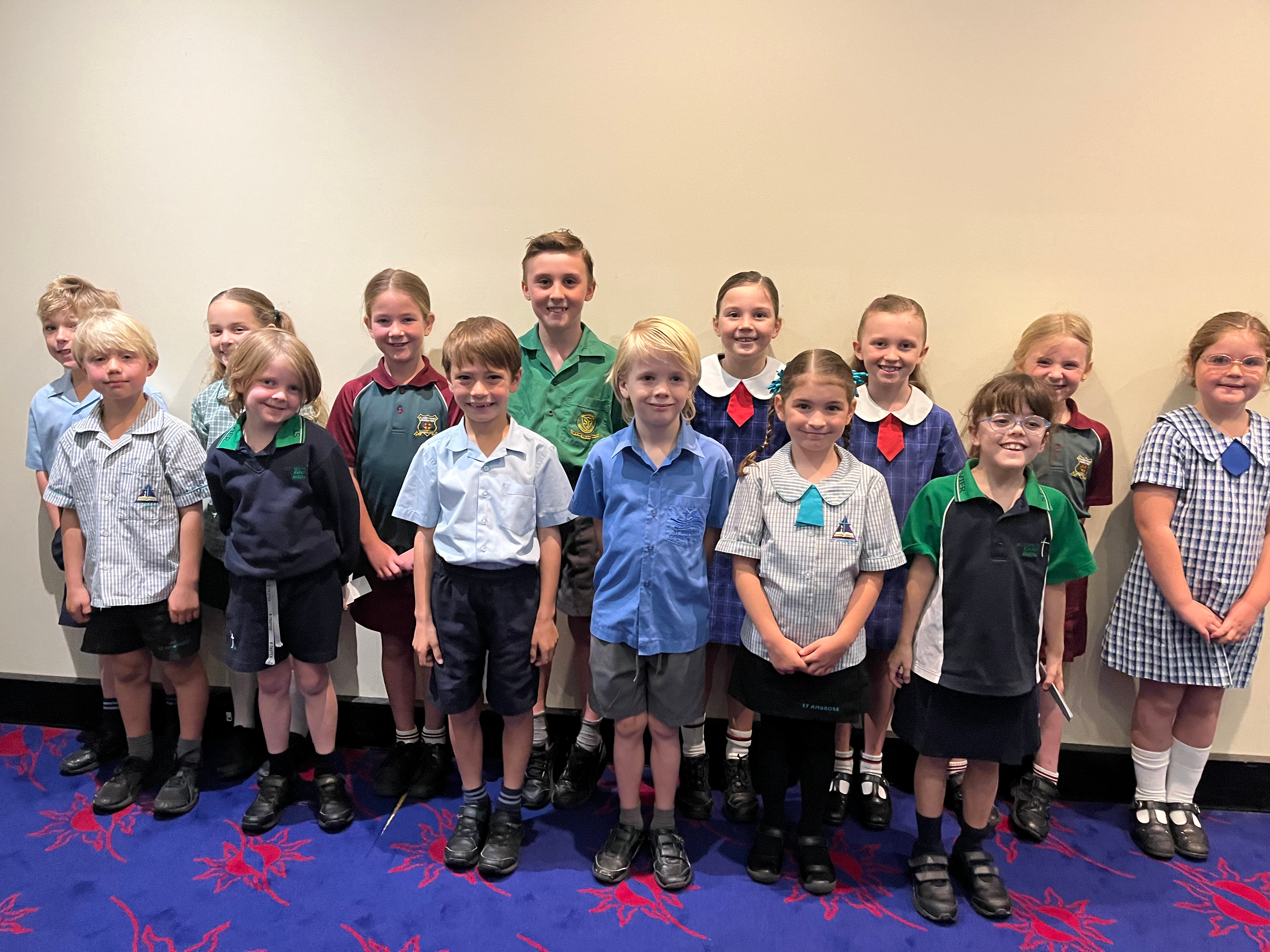 Assistant Principal Mission
Dear St Joseph's Community,
Over the past few weeks, we have had many things to celebrate. We had 18 students enter into the Sacrament of Confirmation recently. Students worked with members of the Parish community to prepare and deepen their understanding of what receivin the gifts of the Holy Spirit means. Students were very excited to take this next step in becoming more mature members of our Church. A special mention also to Lily and Alexandra Moyce who were baptised just before Lily received Confirmation. Lily and all the others students are very excited to continue their Sacramental journey next year.
Last week, Miss McIver, Mr Winning, Miss Maya and Mr Ritchie from Lismore CSO and I were thrilled to be able to witness the engagement of Year 6 students as they took part in their Incitare Retreat. We learnt that Incitare means to urge or inspire and throughout the day, students reflected on their own faith journey and how this has helped them form the values they hold dear today. Listening to Pope Francis' call for courage, we then considered the courage it takes to live our faith, and also to live out our values. I want to thank each of our students for their maturity and willingness to think deeply and share with each other. It was a wonderful day and I sincerely hope they enjoyed it as much as we did.
My New Gallery
A Week of celebration to come
This week, we have a series of wonderful opportunities to build our community together.
On Tuesday, all students will join the Parish at 9:10am for Mass to celebrate the Feast of the Assumption of Mary.
On Thursday, we will kick the day off with the much-anticipated Book Week parade and then invite families back in the afternoon to the greatest art gallery outside of Paris.
Finally on Friday, we welcome all of our Grandparents to come and spend time with us exploring our classrooms and joining us for a liturgy at 10:15am.
I hope to see many of you celebrating with us next week.
God bless,
Ryan O'Connor
Sport News
Rugby League Carnival
Our Junior and Senior Rugby League Teams competed in the Tweed All Schools Carnival at South Tweed this week. Both teams played with great skill and sportsmanship. The senior team won one game and lost the other two. The junior team won two games and drew one. It is not possible for our students to participate in these carnivals without the help of parents. A very big thank you to Dan Taylor and Andrew Millar for training the boys in the lead-up to the day and for running the teams on the day.

O'Dwyer Shield
Our Junior and Senior school rugby league teams will play the O'Dwyer Shield against St James this Sunday 13th of August at the Piggabeen Sports Complex. The under 10s play at 10:45 and the under 12s at 11:30. All players need to arrive by 9:45 am for a warm-up before the games start.

Netball Carnival
Approximately ninety students from Years 3 - 6 attended the Netball NSW Schools Cup at Arkinstall Park on Wednesday. The day was a great opportunity for students to have some fun and show off their netball skills. The Year 3/4 teams participated in a fun gala day style competition, playing against other local primary schools. The Year 5/6 teams competed in a competitive and non-competitive draw, all teams showing great skills on the court. Congratulations to St Joeys Red who were undefeated all day, making it to the final where they took out first place. It is great for so many of our students to have the opportunity to attend these days, however, this is not possible without the help of parents. A very big thank you to Jacelyn Bristow, Chey Shambrook, Claire Bolster, Jaime Brennan, Dallas Knapp, Dana Bell, Rose Dwyer, Charlotte Wilmshurst, and Angela Roberts for giving up their time to umpire and manage teams. Thank you also to Jess Roy, Jason Winning, Maree McCarron, Michelle Rabula, and Casey Snart for also assisting to umpire and manage teams.
Zone Athletics
Netball Carnival _-A Student Perspective
On Wednesday the 9th of August over 80 children from St Joseph's Primary School participated in the combined school's carnival. This event was held at Arkinstall Park. There was a set of several colours for the teams. Many schools from the Lismore Diocese participated. Even inexperienced players had the courage to come and participate and we think they did a great job. We loved and enjoyed this amazing experience. We would like to thank all the people who worked in the canteen who made our day a lot sweeter. We loved that we could see our friends out of school and create new friendships. We thank all the people who set up for the day and we would like to say a special shout-out to all of the families and teachers who volunteered their valuable time to be a coach, umpire or manager. We could not have done it without you.
Kind regards
Phi, Millie and Sophie (year 4)
Autism Webinars
Family Faith Retreat
Little Athletics Sign On