Term 4 Week 10 2023
PRINCIPAL'S MESSAGE
As we celebrate Holy Week which begins on Palm Sunday and is sometimes called Passion Sunday because on this day we hear the reading of the Passion narrative where Jesus is captured, suffers and dies. On Palm Sunday we remember Jesus` triumphant entry into Jerusalem where crowds shouted praise and waved palm branches. Holy Thursday is the day we commemorate the Lord's Last Supper. Jesus gathered with his disciples, washed their feet and celebrated the Eucharist knowing that he was condemned to be crucified and betrayed. Good Friday we remember the crucifixion of Jesus and the Church mourns the suffering and death of Jesus. The Easter Triduum begins on Holy Thursday and ends with the celebration of Jesus' resurrection on Easter Sunday.
In this final week of Lent, we remember that no matter what we have ever done, we are greater than our worst moments. Jesus loves us enough not to condemn us, but to give us the courage to find strength and hope to live a life of peace and joy.
I wish all the families at St Joseph's a happy and Holy holiday which is spent with family reflecting on all the things we have to be grateful for.
Today we celebrated our Easter Liturgy through the stations of the cross where students walked with Jesus on his journey. All students took an active role in witnessing the Easter story. I would like to thank Mr O'Connor and the students who helped present the Easter story. They all did an amazing job.
The Easter Hat Parade.
Thanks to all parents and students who did a wonderful job of organising Easter hats and everyone took great delight in modelling them during our parade. It was particularly nice to have parents here to enjoy the event. A big thank you to our Mini Vinnies students for the wonderful market stalls and activities and to all those who contributed to the Easter raffle. It was a great day full of fun and laughter.

As we have reached the end of term, our students and staff have worked hard to achieve a settled start to the year. It is essential that students arrive at school on time, engage in a productive
day of learning and return home to a supportive and balanced home life.

Here are some ideas to help parents help their children in preparation for Term 2:·
Remember that children are resilient and the vast majority will come through any small setbacks with flying colours.
· Be aware that different children in the same family will react in different ways to being in school
· The staff are capable and committed – don't hesitate to ask for their support and guidance when you need it.
· Without asking leading questions, create a calm and supportive home environment where your child can feel safe and able to express their emotions and concerns.

Australian Parenting and education expert, Kathy Walker has the following tips:
· Keep the TV and computer out of the bedroom
· Stick to routine
· Tell your children you love them every day
· Avoid rushing them through their childhood
· Remember the Kindergarten students in particular, are still little children and don't have to be mini geniuses just because they have started school
· Cut them some slack when they are tired
· Read to them or listen to them read every night
· Sit with them around the evening meal so you model conversation, with them being involved.
Thanks to everyone for welcoming me into the school community of St Joseph's. I hope to always work along side you with the best interestes of our students at the core. I would also like to thanks all the dedicated teachers and support staff who go above and beyond every day to provide the outstanding learning opportunities St Joseph's is so very proud of.
God Bless you all, stay safe and see you in Term 2.
Tracey
ASSISTANT PRINCIPAL -Teaching & Learning
Anzac Day
Once again the school will participate in this year's ANZAC Day march and ceremony.
The March will be held on Tuesday April 25th.
The children will need to be in full school uniform including a school hat. We will assemble in the park beside Twin Towns at Jack Evans Boat Harbour at 10 am and the march will commence at 10.30am.
Twin Towns Services Club provides the children with a drink and a pie for marching, so we need to know the numbers attending for catering purposes. Please do this by responding to the email sent through compass.
We know this is a great opportunity to show how proud we are to support our servicemen and women by marching with and for them.
PROFESSIONAL DEVELOPMENT DAY
The first day of Term 2 is a pupil-free day for the children and they return to school on Wednesday 26th April. The teachers on Monday are required for teacher registration, to participate in various professional development throughout the year covering The NESA Accredited PD priority areas. These are:
delivery and assessment of the NSW Curriculum/Early Years Learning Framework (as applicable)
student/child mental health.
students/children with disability.
Aboriginal education and supporting Aboriginal students/children.
Monday 24th is a pupil-free day while the teachers will be participating in the PD Crossing Cultures / Hidden Cultures. Please ring Tabainga if you need child care.
PUBLIC SPEAKING
Term 2 is our Public Speaking term where EVERY child in the school prepares a speech to be delivered to their class. Two representatives from each class are then chosen to compete in the school's Public Speaking competition on Wednesday 21st June in the Church. The holidays are a great time to start preparing your child's speech and have it ready for the beginning of next term when the teachers will polish their presentation in the classroom. I have attached the criteria so please read this document carefully.
Thank you for your continued support and I am very proud of all the children and the effort they have put into their learning this term. Thank you to the teachers for a job well done too.
Have a great Easter and see you back on the 26th April.
Cheers
Chris
ASSISTANT PRINCIPAL -Mission
Dear St Joseph's Community,

As we finish the first term of school, it is always a wonderful time to stop and reflect. We have had an incredibly busy start to the year in the works of Mission with our Opening mass, Feast Day celebrations and Lenten journey. I have been inspired by the engagement of our children and the commitment of our staff to spreading the message of our faith and mission.

This morning our community will once again gather to pray at the most important time in our Church calendar: the Easter Triduum beginning with the Last Supper, Passion and ultimately the Resurrection of our Lord. Thank you to our Year 6 students that will lead us through this special liturgy.
One of our songs on the liturgy has the line, "When death was abandoned, my new life began". The story of the Resurrection isn't one that only happens once a year, it is something we can celebrate every day: A new life with Christ. Here at St Joseph's we experience this when we Make Jesus Real through our interactions with others. It is this spirit that guides us, drives us and supports us.
I sincerely hope you have time this weekend to share this spirit with your family as we all do in the broader family of Christ. I wish you all a safe and enjoyable break. Next term begins with our Anzac Day March so I hope to see many of you there then.

God bless,
Ryan O'Connor
LEARNING AND TEACHING- LEADER OF PEDAGOGY
As part of our ongoing focus on school effectiveness, next term, during Week 2, the St Joseph's school community will have the opportunity to participate in the Tell Them From Me (TTFM) Survey. This survey is an important tool to gather feedback from all community members- including students, parents, and teachers- to identify areas of strength and areas for improvement.
The TTFM Survey includes three different surveys: the Student Survey, the Parent Survey, and the Teacher Survey. In Week 1 of Term 2, parents will receive a survey link via Compass. Students will complete the online survey in class with a random username and password. This survey is anonymous for all participants, and names cannot be linked to responses.
The Student Survey is a powerful feedback tool that allows us to gather information about student engagement, wellbeing, and learning outcomes. It's designed to be completed by students in Years 4-6. The survey covers a range of topics related to student engagement and wellbeing, including school climate and safety, teacher-student relationships, student motivation and effort, academic self-concept, homework and study habits, and social-emotional skills and wellbeing.
Similarly, the Parent Survey gathers information about parent engagement and satisfaction with our school. It covers various topics related to parent engagement and satisfaction, including school communication, parent involvement in their child's education, perceptions of the school climate and culture, satisfaction with school programs and services, and perceptions of teacher quality and effectiveness.
The survey data will enable us to identify areas of strength and areas for improvement and create a more collaborative and supportive school environment that will drive school improvement efforts. We encourage all members of our school community to participate in the survey to provide us with valuable feedback.
For further information on the Parent Survey, please view the attached document.
Thank you for your ongoing support in making St Joseph's a great place to learn and grow.
SPORT NEWS
Term 2 Sport
All children in Kinder through to Year 6 will participate in a dance and gymnastics program for sport next term. The program will start on Friday 28th April, finishing on Friday 30th June. Permission notes have been sent out through Compass. The cut-off date for permission/payment is the 25th of April. This is part of the school curriculum and one that all students must participate in. It is not an optional activity.
Term 2 School Athletics Carnival Save the Date: Our school athletics carnival for Kinder to Year 6 will take place on Friday 16th June at Walter Pete Oval at Cudgen.
QLD Little Athletics State Championships
Emjay Goldsworthy, Parker Goldsworthy, Willow Millar and Lachlan Cook recently travelled to Townsville to compete at the QLD Little Athletics State Championships. Emjay competed in 3 events. He achieved personal bests in all events. In the 800m he placed 13th, in the 400m he placed 8th and in the triple jump he placed 4th, jumping 9:10m, narrowly missing 3rd place. Parker competed in 5 events and achieved 4 personal bests. In long jump he placed 6th, in the 100m he placed 7th, the 200m he placed 6th, the 400m he placed 4th and in the 800m he placed 3rd, claiming the bronze medal.
Willow Millar placed 1st in the high jump, 6th in the 70m hurdles and 7th in the long jump.
Lachlan Cook competed in the 100m event, he was unlucky not to place in his heat, putting in a great effort though.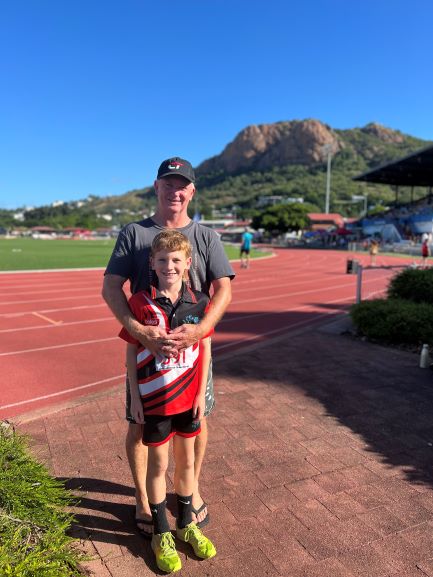 Cross Country
Children in grades 2-6 participated in our annual school cross country last Friday. It was great to see so many students having a go and doing their best to complete the 2 or 3 km course. The top 6 students in each age division will now go on to compete at the Tweed Zone Cross Country in Murwillumbah on Friday 5th May. Permission notes have been sent home through Compass, the cut-off date for permission/payment is the 28th of April.
A special congratulations to the 2023 Cross Country Age Champions:
8/9 Year olds: Elana Kotek and Jack Preston
10 Year olds: Willow Roy and Eligh Boughton
11 Year olds: Elizabeth Steele and Noah Kotek
12/13 Year olds: Pippa Cook and Luca Boughton
Polding Swimming Trials
Willow Millar represented the Lismore Diocese at the Polding Swimming Trials at Homebush last week. Willow placed 1st in the 50m backstroke and 4th in the 50m freestyle and 50m butterfly. Willow will compete at the NSW State Swimming Championships this Wednesday. We wish Willow all the best, we will be cheering you on.


Polding touch football
Polding Touch Football
Pippa and Sam Cook travelled to Parkes to compete at the Polding Touch Football Trials last week. Both showed great skill against some very talented players. Sam was selected in the Polding team, he will compete at the NSW State Carnival next term. We wish Sam the best of luck.
SAFE ON SOCIAL MEDIA - ROBLOX
SUPPORT & INCLUSION - NCCD
What does support and Inclusion look like in the classroom at St Josephs ?
Our primary focus for students is engagement and inclusivity.
Support for students may include:
Teachers making reasonable adjustments in class to meet the needs of diverse learners and allow equal opportunity for students to access the curriculum and achieve results in the least restrictive manner.

Creating Personalised Learning and Support Plans which outline student learning goals and provide strategies for staff to implement to meet the learning needs of identified students

Implementing Intervention Programs to assist achieving literacy and numeracy outcomes

Providing in class support and withdrawal support (where necessary) for individuals and small groups with diagnosed learning needs
Nationally Consistent Collection of Data on School Students with Disability (NCCD)
The NCCD process has begun for 2023. NCCD is an annual collection of information about Australian school students with a disability. This enables schools, education authorities and governments to better understand the needs of students with disabilities and how they can be best supported at school. At St Josephs, we collaborate with parents to determine the personalised level of adjustments required for students needing a higher level of care beyond teacher adjustments.
We are in the process of completing personal planning meetings for our diagnosed students. Most families have had their Collaborative Planning Meeting with our Inclusion Coordinator and our other students that are also supported at different levels have had their Parent /Teacher meeting or are having their Parent/Teacher Meeting in the coming days, if you have not yet been able to organise a meeting with your classroom Teacher, please contact them as soon as possible.
Every year, all schools in Australia participate in the Nationally Consistent Collection of Data on School Students with Disability (NCCD). The NCCD process requires schools to identify information already available in the school about supports provided to students with disability. These relate to legislative requirements under the Disability Discrimination Act 1992 and the Disability Standards for Education 2005, in line with the NCCD guidelines (2019).
Information provided about students to the Australian Government for the NCCD includes:
year of schooling

category of disability: physical, cognitive, sensory or social/emotional

level of adjustment provided: support provided within quality differentiated teaching practice, supplementary, substantial or extensive.
This information assists schools to:
formally recognise the supports and adjustments provided to students with disability in schools

consider how they can strengthen the support of students with disability in schools

develop shared practices so that they can review their learning programs in order to improve educational outcomes for students with disability.
The NCCD provides state and federal governments with the information they need to plan more broadly for the support of students with disability.
The NCCD will have no direct impact on your child and your child will not be involved in any testing process. The school will provide data to the Australian Government in such a way that no individual student will be able to be identified – the privacy and confidentiality of all students is ensured. All information is protected by privacy laws that regulate the collection, storage and disclosure of personal information. To find out more about these matters, please refer to the Australian Government's Privacy Policy (https://www.education.gov.au/privacy-policy).
Further information about the NCCD can be found on the NCCD Portal (https://www.nccd.edu.au).
PCYC HOLIDAY ACTIVITIES